October 16, 2014
Pricie Hanna Presentation at Insight 2014
Introduction
The hygiene industry considers the adult incontinence product category to have especially attractive growth prospects due to the more favorable demographic trends and the lower market penetration of the adult incontinence product category compared to baby diapers and feminine hygiene care.  This paper reviews the trends and priorities of the two highest growth segments of the adult incontinence product business – pads and liners for light incontinence and pull-up pant type protective underwear for moderate to heavy incontinence.  These products are typically used by consumers who live at home, are mobile and pursue active lifestyles.  The growth trends of these product segments have attracted new market entrants, such as Procter & Gamble who re-entered the adult incontinence product markets in Europe and North America this year with a consumer product line of pads, liners and pants.
Procter & Gamble, the leader who built the North American market for disposable incontinence products used in healthcare institutions, withdrew from the adult incontinence product market in 1999.  At that time the company was losing market position, particularly in the retail channel where Procter & Gamble was selling essentially the same adult incontinence products for home use as the adult products they originally designed for the institutional market.  In contrast, Kimberly-Clark gained strong retail market leadership in the U.S. by aggressively advertising consumer product designs and promoting the development of the U.S. retail market for mobile incontinent adults living at home.  During the last two decades, SCA has expanded and retained their global category leadership with full adult incontinence product lines for the institutional, home care and retail markets. Over the years, the product designs and material compositions have continued to evolve to better address the different buyer priorities in the consumer market and the institutional market.
This paper will address the following questions:
why new competitors are entering certain segments of the incontinence product market
what are the trends in product designs and material compositions that are driving growth
what are the buyer priorities for incontinence products made for the consumer at home market versus the products made for institutional use
how do recent examples of the incontinence product lines of new market entrants respond to market priorities, and
what differentiating designs and materials are used to address today's incontinence market needs
Attractive Growth Segments of the Adult Incontinence Product Market
It is well known that the global population growth of the female and senior demographic segments is outpacing the growth of the baby population.  In almost every major country market of the world, people are living longer.  As a result, the potential global market for adult incontinence products is growing faster than the potential global markets for diapers and other types of hygiene absorbent products.  The penetration of disposable adult incontinence products in many countries and market segment is still relatively low.  The worldwide volume growth outlook for all types of disposable adult incontinence products in the next five years is expected to have average annual growth of almost 8% driven by both demographic trends and steadily increasing market  penetration in all country markets.
Within the adult incontinence product category, there are many types of products with different sizes, shapes and functional performance levels to respond to the several types of incontinence diagnoses and varying levels and frequency of incontinence episodes that adults experience.  Adult incontinence prevalence and protection product needs differ substantially by gender and age.  The traditional product designs (adult tape fastening diapers/briefs, two-piece pad and pant systems, undergarments and underpads) are collectively projected to growth at a rate of 5 – 6% per year.  The most attractive segments for volume growth are light incontinence bladder pads, panty liners for occasional leakage and pull-up pants type protective underwear for moderate/heavy incontinence.  The combined demand for pads, liners and pants is forecast to have volume growth at a rate of 9 – 10% worldwide during the next five years.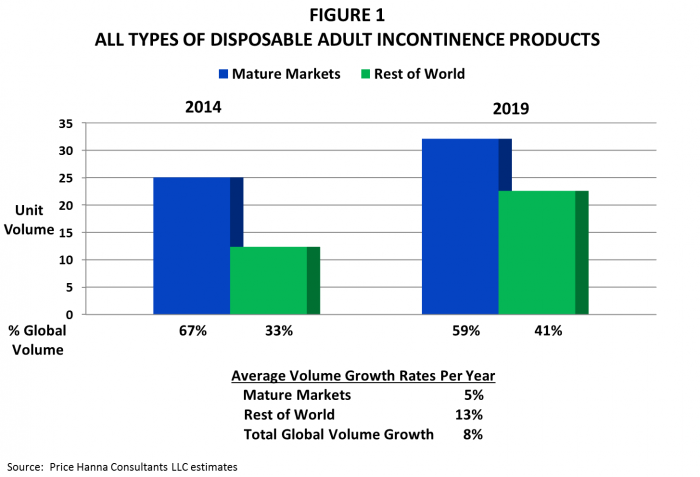 Figure 1 illustrates that the mature markets of the U.S. and Canada, Western Europe and Japan, currently account for about two-thirds of the global market volume with growth in adult incontinence product consumption projected to average around 5% per year during the next five years.  The rest of the world which currently consumes about 33% of the global volume of disposable adult incontinence products, is forecast to have higher volume growth in adult incontinence product consumption at average annual rates approaching 13%.  The emerging markets in particular are expected to have higher growth as the penetration of disposable adult incontinence products is relatively low today and increased demand will be driven by both climbing income per capita and longer average life spans.  In five years, we project that the developing markets in the rest of the world will account for 41% of the global volume demand for adult incontinence products.  The mature markets of the U.S. and Canada, Western Europe and Japan will consume about 59% of the global total for adult incontinence products by 2019.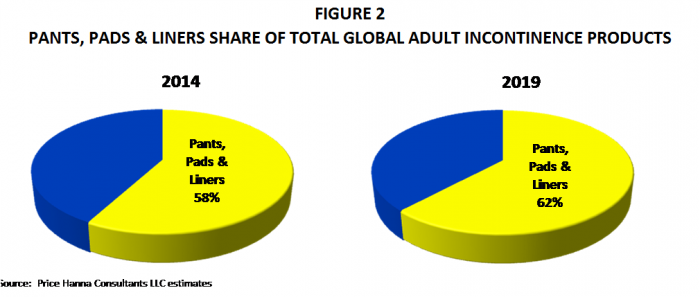 The volume consumption of disposable pants, pads and liners for adult incontinence is estimated to be approximately 58% of the total global adult incontinence product volume of all types, both body-worn and underpads (Figure 2).  With average annual growth projected at 9 – 10% during the next five years, these product segments collectively will account for around 62% of the total global volume in this category.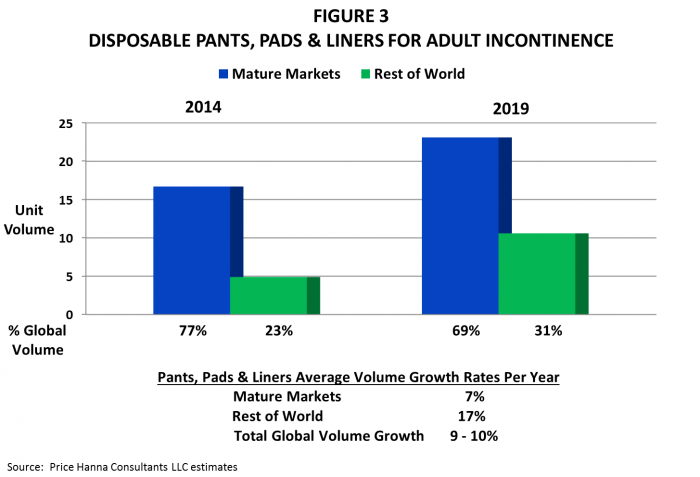 The use of light incontinence pads and liners and moderate/heavy underwear pants is expected to achieve significant growth in both the mature markets and the rest of the world.  Today, the mature markets are judged to consume approximately 77% of the combined global volume of pads, liners and pants (Figure 3).  In five years, the rest of the world is expected to increase their share of the combined consumption of these products from 23% in 2014 to about 31% by 2019.  The average growth per year in the mature market consumption of products in these segments is projected to be around 7%.  In the rest of the world, the growth in pads, liners and pants is forecast to average 17% per year in the next five years.
Light incontinence bladder pads, panty liners and pull-up pants are primarily used by people who live at home, can change their incontinence products themselves and are able to pursue active lifestyles.  In the mature markets, the incontinence product volumes sold through retail and at home delivery market channels are growing faster than the incontinence product sales to institutions because there are relatively greater market penetration opportunities for these light to moderate incontinence products for mobile adults.
Trends in Product Designs and Material Compositions
Underwear Pants
Pull-up pants are designed to be easy for incontinent seniors to stretch open, put on and fit correctly by themselves and more closely resemble cloth underwear. The adults that use disposable pants are usually mobile and appreciate the self-sufficiency and dignity they gain by being able to change their pants without assistance.
The pants need to be thin, flat and body-hugging so that they will not be easily seen under clothing.  The pant materials have to be soft and breathable for comfort and coolness.  The pant has to stay up on the body securely without sagging over time.  If body heat builds up the wearer can feel sweaty and uncomfortable.  Over time, body heat can cause some types of elastic materials to incur stress relaxation that permits pants to sag in use.
Most of the underwear pants on the market today have stretch pants made with rows of spandex elastic yarn attached with hot melt adhesive between nonwoven facings.  When this type of stretch laminate is made with several rows of relatively thick yarn spaced one centimeter apart it typically forms a gathered, bulky pant when the material is relaxed.  The bulkiness can be reduced by using more rows of thinner spandex strands so that the nonwovens appear moderately creped rather than gathered.  The pants that are made with more rows of thinner elastic yarn are perceived to be higher quality, breathable and less detectable under clothing.  Procter & Gamble's new Always Discreet pant is made with elastic yarn laminates glued to very soft, nonwovens.
Premium pants using elastic film/nonwoven laminates provide a flat, smooth appearance which assures the wearer that the pants will not be noticed when worn under tight clothing.  These film laminates are often apertured to enhance the breathability and coolness of the pant.  Examples of pants with elastic film laminates that are currently in the U.S. market today include Kimberly-Clark's Depend Silhouette and Depend Real Fit, SCA's TENA Comfort Fit Women Underwear and First Quality's Smooth Shape™ private label pants with Soft Stretch™ fabric.
The aesthetic properties of pants have improved substantially during the last several years.  The nonwovens used in adult underwear have become much softer with silky hand feel.  Decorative print patterns and pastel colors are often used to enhance the pants resemblance to regular underwear.
Pads and Liners
Bladder pads and liners for light incontinence are gaining acceptance from women who are inclined to deny their incontinence symptoms and use menstrual protection pads for incontinence protection.  Women have become much more aware of the superior absorbency that is designed into incontinence pads and liners with higher superabsorbent compositions for effective urine absorbency.  This year, Kimberly-Clark, the U.S. consumer brand leader in incontinence pads has conducted a "Meet SAM (Super Absorbent Material" advertising campaign this year for their Poise pad products which state that "If you have Light Bladder Leakage (LBL), it's time you met SAM (Super Absorbent Material).  Designed to lock away wetness better than period pads and liners, you'll find SAM in the full line of Poise products."
The broad availability of these products in major retail channels provides buying convenience.  These products are also easy to purchase on the internet for home delivery.  The leading national brands and private label store brands carry multiple SKUs (shelf keeping units) providing several absorbency levels and pad lengths.  For example, Procter & Gamble's new Always Discreet line includes three panty liners in two absorbency levels and two lengths and six pads in three absorbency levels and two lengths.
Airlaid cores with superabsorbent have gained share from fluff pulp/superabsorbent cores for incontinence pads with the launch of Procter & Gamble's pads and liners which all contain airlaid core/superabsorbent composite materials.  Other leaders primarily use airlaid composite cores only in their lowest absorbency liners and pads.  Procter & Gamble's U.S. ads claim that their Always Discreet pads are "40% thinner than the leading brand" (presumably Kimberly-Clark's Poise pads).  State-of-the-art airlaid composites enable ultra-thin pads and liners to have the absorbent capacity needed for adult urinary incontinence.  Earlier this year, Kimberly-Clark added Poise Microliner to their line with ads that compared it's thinness to a dollar bill.
Odor absorption is also emphasized in pads and liners today.  Procter & Gamble states that the Always Discreet pads and liners have "exclusive OdorLock™ Technology; Neutralizes odors instantly and continuously" and that their "unique DualLock™ Core helps lock away odor and wetness for hours".  SCA claims that their pads have "new InstaDRY™ technology: 864 tiny funnels zip wetness away from your body to lock in moisture and control odor".  Kimberly-Clark's pads and liners all boast that their "absorb-loc™ core quickly locks away wetness and odor".  First Quality's private label incontinence products contain "Omni-Odor Guard™ Plus to help control odor".  Almost all incontinence products sold in the mature markets today claim to help with odor control, often due to the pH neutralization provided by the superabsorbent in addition to urine absorption.
Customer Priorities
In the consumer market, people with incontinence seek security, comfort and discretion.  This is the focus of the consumer advertising that the U.S. market leaders emphasize for pants.  SCA claims "Fearless Protection™ of TENA" from leakage through excellent absorption and a close body fit.  Kimberly-Clark promises "the confidence of Fit-Flex™ Protection" in their Depend underwear.  For their premium Depend Silhouette pants, Kimberly-Clark describes their elastic film/nonwoven laminate pant as "cotton-like fabric, creates a sleek, ultra-smooth fit under your clothes and is soft against the skin" and "has the feel of real underwear".  First Quality also describes their elastic film/nonwoven laminate pant as a "cotton-like fabric" which provides "the same look, fit & feel as real underwear".  Consumers have very positive expectations about the comfort and breathability of any wearable product described as "cotton-like".  Odor control is an important aspect of discretion.
For pads and liners, consumers' requirements for security, comfort and discretion are increasingly met by ultra-thin pads which provide rapid absorption and reliable fluid retention in products that are dry to the skin, soft and flexible.
In the institutional market, the priorities are driven by the need for cost effective care.  The use of the appropriate size and absorbency level incontinence product for each resident saves extra labor required for bedding changes when products leak.  In Europe, SCA is using a sensor technology called TENA Identifi to do 72 hour evaluations of the voiding volumes and frequencies of nursing home residents to determine the right incontinence product for each resident and when they should be changed.  Briefs with stretch panel fasteners permit institutions to maintain inventories of fewer product sizes to fit a wider range of residents' hip and waist sizes.  Long body side-wrapping stretch panel fasteners enable bariatric briefs to fit obese incontinent residents.  It has been observed that Alzheimer patients tolerate incontinence pants, which are perceived to be regular underwear, better than fastening briefs which they tend open by pulling on the fastening tabs.  Incontinence products which maintain skin dryness to minimize skin irritation and bed sores are valued because of the high care and materials expenses involved in healing skin ulcers.
Examples of Recent Products that Respond to Market Priorities
Procter & Gamble's recently launched Always Discreet line for women capitalizes on the brand equity of their Always line of period protection feminine pads.  The Always Discreet pads and liners provide excellent absorbency in very thin pads by using airlaid/superabsorbent composite cores.  Most women in North American and Europe have regularly used or sampled Always Ultra-Thin sanitary napkins for menstrual fluid protection so have learned to trust the effectiveness of very thin pads with airlaid pulp/superabsorbent composite cores.  Procter & Gamble's ads claim that their new Always Discreet pad is "up to 40% thinner than the leading brand and absorbs 2X more than you may need."  The Always Discreet liner also "absorbs 2X more than you may need."  These ads have footnotes which define the absorbency level that you may need as "based on average US consumer usage".
The Always Discreet pants have a conventional pant design with spandex yarn laminates and fluff pulp/superabsorbent cores which provide good absorbency from a relatively high concentration of superabsorbent. The nonwovens on the Always Discreet pant are softer than many of their competitors' pants and the printed decoration goes beyond the solid pastel colors of competing pants.  Procter & Gamble's rather thick, but soft and cushiony, absorbent core in their pants may be reassuring to many older seniors who many not fully trust the potency of superabsorbent in ultra-thin cores.  The ads for Always Discreet underwear claim that they provide security because "Dual LeakGuards™ help stop leaks where they happen most".  The overall design and materials used in Procter & Gamble's Always Discreet pants appear to be relatively low cost enabling competitive price positioning in the mid-tier pants segment which is the largest volume tier of the underwear pants markets in the U.S. and Europe.
Differentiating Designs and Materials
Hygiene industry participants, both end product manufacturers and their material and equipment suppliers, are continuously challenged to enhance product differentiation and improve functionality and aesthetics in ways that reduce total costs or, at least, maintain parity with the cost of currently used solutions.  The innovations and improvements also need to be easily perceived and valued by the wearers of the products and their caregivers.  Out of many examples worldwide, we have selected just a few seen in the U.S. market as major examples of competitively differentiated product designs and material innovations.
Glatfelter's development of highly absorbent airlaid cores with high superabsorbent concentrations provided differentiated absorbent material or ultra-thin bladder pads that enabled pads to be thinner while increasing their absorbency level.
Kimberly-Clark's elastic film/nonwoven laminate made internally for their Depend Silhouette and Depend Real Fit was the key differentiating material to enable the super-premium price positioning of these pant products.  The elastic film in these products was one of the first examples of the use of polyolefin elastomers as the primary stretch material in the elastic film formulation.  The laminate construction with this elastic film enabled the flat, body-snug profile that was the focus of Kimberly-Clark's claims for a new level of discretion for the wearers of these pants.
Tredegar Film Products has developed both elastic film/nonwoven laminates for stretch pants and apertured film acquisition/distribution layers (ADL) that are successfully used by many several of the leading adult incontinence product manufacturers.  SCA, First Quality and other leading private label adult incontinence product manufacturers have designed improved incontinence products with these materials.
The hygiene equipment manufacturer, Curt G. Joa, has engineered and built underwear pant converting lines with optional equipment to provide the flexibility to convert pants either with stretch materials made with either Spandex yarn/nonwoven laminates or elastic film/nonwoven laminates.  This dual capability enables a hygiene converter to produce on the same line both Spandex yarn pants for mid-tier positioning as well as premium pants made with elastic film.
Butterfly Health Inc. invented a unique new product to respond to the unmet protection needs from light to moderate accidental bowel leakage (ABL) in the Butterfly body liners.  These are butterfly shaped, thin liners which use a gentle body adhesive to hold the liners in place.
Emerging Market Trends in Adult Incontinence Products
In the emerging markets that have growing middle and upper class, those consumers that can afford imported incontinence products are finding access to the state-of-the art pants and pad products from the global leaders, especially from SCA International.  Information on available products and where/how to buy them is easily found on the internet.  Products imported into emerging markets from Western Europe, the U.S. and Canada and Japan are widely recognized and preferred for their consistent quality, high functional performance and modern designs.  Imports from mature market countries are likely to be the primary sources for state-of-the-art consumer adult incontinence products, especially pants, for the next few years.
As local demand builds to high enough levels to justify local production, we expect the global brand leaders and local followers to locally produce current product designs and innovative products.  Local adult incontinence product manufacturing, especially where state-of-the-art materials are locally available, should significantly lower product costs making these products affordable for more people and drive market penetration.  For the last four years, SCA has worked to develop market penetration in China by extensive nurse training programs on products that enhance the quality of life for people with incontinence.  We already see global hygiene leaders producing some adult incontinence products in China, Brazil, Russia and other high growth emerging markets.
SCA's 2012 acquisition of Everbeauty of Taiwan provided plants in Taiwan and China.  In 2011, SCA acquired an adult incontinence product manufacturer, Pro Descart, in Brazil.  SCA will begin production of adult incontinence products at a new plant in Russia next year.  In southwest India, SCA is building an adult incontinence products manufacturing plant that is scheduled to start up in 2015.
Unicharm has adult incontinence product operations in China, Taiwan, Korea, Thailand, Indonesia, Malaysia, Singapore, Vietnam, Saudi Arabia and Australia.  In Indonesia, Unicharm claims to have gained the number one market share (31.3% value basis) by the first quarter of 2014.  Unicharm's Lifree adult underwear pants are sold in Indonesia.
Hengan International, the largest China based hygiene company, is a leading producer of adult incontinence products in China and is one of several Chinese adult incontinence producers that hold major share positions in this market.
Conclusions
The global growth trend for incontinence pants, pads and liners is well established and has sustainable market drivers for the future.  There are many opportunities in the mature markets of the world and the emerging market possibilities are just beginning to be pursued.
---